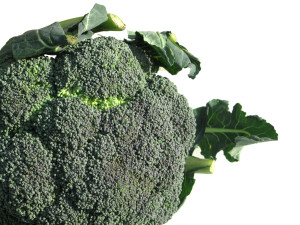 Scientists from Oregon State University and the Oregon Health & Science University have found that broccoli and other cruciferous vegetables containing a compound called sulforaphane slowed the growth of cancer cells, especially at early stages.
According to an article on the Oregon State University website, 54 women with abnormal mammograms who were scheduled for a breast biopsy were studied in a double-blind, randomized, placebo-controlled trial. They received either a placebo or supplements that provided sulforaphane. The amount of sulforaphane they received would equate to about one cup of broccoli sprouts per day, if eaten as a food.
One of the study's co-authors, Emily Ho, Ph.D., at Oregon State University's College of Public Health and Human Sciences, said: "We were surprised to see a decrease in markers of cell growth, which means these compounds may help slow cancer cell growth."
Dr. Ho, who is also the Endowed Director of the Moore Family Center for Whole Grain Foods, Nutrition and Preventive Health, and a principal investigator with OSU's Linus Pauling Institute, said that this is very encouraging: "Dietary approaches have traditionally been thought to be limited to cancer prevention, but this demonstrated it could help slow the growth of existing tumors."
Click here for the rest of the article.
The next time you're at the market, remember that something as simple as some fresh organic broccoli or broccoli sprouts can have a powerful effect on your cells.
Source: Cancer Prev Res December 2015 8:1184-1191; Published OnlineFirst October 28, 2015; doi:10.1158/1940-6207.CAPR-15-0119. Click here for the Abstract.
Anita Kugler
Health and Wellness Coach